Maintenance Manager
Nieuw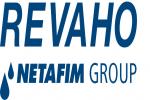 Corporate Introduction
Revaho's goal is to provide/deliver a total package of top-quality irrigation solutions for the agricultural sector and to ensure the solutions can be used optimally by innovation and knowledge transfer.
Revaho bv is part of the Netafim Group and has an extensive part of the manufacturing of irrigation solutions into their own production, this includes PE-pipe, dripper lines, and various accessories.
One of Revaho's specialisms is to manufacture and deliver custom made, assembled dripping systems. To meet the high-quality standards, Revaho produces their own PE-pipes. The production location in Rucphen enables Revaho to maintain heavier standards and test procedures than usual, so produced dripping systems will remain without problems for years, under the most extreme circumstances. Revaho works with countless automatic machines for the assembly of dripping systems and is the largest in the world for these systems. On top Netafim is the global market leader of drip irrigation solutions in general.

General Purpose
Leading the technical and maintenance team, creating maintenance plans and measurements for this activity, leading technical and engineering projects that will improve the plant performance and main KPI's according to organizations standards.
Responsibilities of the job include
• Continue to build a top working culture, motivating people to participate and demonstrate commitment, inspire others and celebrate successes, Performance management cycles and other people processes.
• Autonomously oversee and be responsible for all scheduled and non-scheduled maintenance to ensure that machinery uptime is maximized, maintenance expenses are minimized, and all works are done in a safe and secure manner.
• Creating and managing maintenance plans and maintenance policies.
• Leading technical and engineering projects that will improve the site performance and will allow quality improvement and cost reduction.
• Leading the installation of new production systems – MES (Manufacturing Execution System).
• Working with external suppliers and purchasing on spare parts inventory.
• Managing maintenance budget and KPI's of the team.

Required Characteristics and Abilities
• HBO/HTS level of working and thinking in electrical/electronical engineering or mechanical engineering
• Minimum 5 years' experience in a similar role
• Fluent in English and Dutch
• Team management experience
• The ability to motivate employees and high levels of interpersonal communication skills
• Leadership skills and charisma
• Previous experience with automation
• Previous experience with programmable controllers (PLC) and motion controllers
• Experience in controller and computer programming (OMRON, SIEMENS)
• The ability to take decisions

What we have to offer
• Challenging international working environment
• Working at a world leader in its field
• Excellent remuneration package including company car
• Great team spirit

Interested?
Are you interested in this role? Please apply in English by pressing the APPLY button that you will find on our website
www.grassgreenereurope.com
If you want to hear more about this job, please contact our Managing Director, Mr. Eli Barenholz at
eli@grassgreenereurope.com
or call our office at +31.165.521004.
Locatie
Rucphen
Contactpersoon